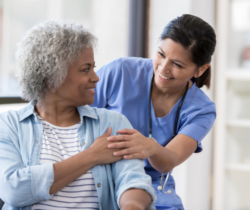 From September 15 through October 15, we celebrate the important contributions that Hispanic and Latine people have made to the United States. During this time, we recognize and affirm that Hispanic/Latine heritage is American heritage. You can learn more about the history behind Hispanic Heritage Month in last year's blog, Hispanic Heritage Month: Learn About And Celebrate The Rich Traditions, Cultures, And Contributions Of Latino And Hispanic People.
Hispanic/Latine people in Arkansas have played a critical role in their communities during the pandemic. They were disproportionately represented in frontline positions and disproportionately impacted by COVID-19 as a result. While we recognize the important role our Hispanic and Latine families have played, we must also recognize that we need to do a better job of addressing the needs of these communities. When immigrant families succeed, we all succeed.
This is true not only nationwide but also here in Arkansas. In 2019, a law passed in Arkansas that allowed DREAMers who have obtained DACA or Deferred Action for Childhood Arrivals status (an immigration program that allows people who arrived in the United States prior to age 15 and who meet certain continuous residence status to live and work legally in the United States) who had completed their education and met all the requirements, to apply for nursing licenses. This same proposal failed in 2017, meaning that DACA recipients were being denied nursing licenses even if they were qualified. But by 2020, when the pandemic hit, there were roughly 45,000 nurses in Arkansas, and of those 3.5% were immigrants.
DACA is an important program, but it is not a law, meaning it can be changed or eliminated under a new administration. In fact, under current rules no new DACA applications can be approved even though they can be filed. Instead of a piecemeal approach, we need to focus on comprehensive immigration reform that contains a path to citizenship at the federal level. Immigration law is incredibly complicated, and it is long overdue for reform.
So, while it is important to celebrate the accomplishments of the Hispanic/Latine community this Hispanic Heritage month, we should also be thinking about how to make sure that Hispanic/Latine communities have what they need to succeed. Again, this year I will encourage everyone to learn about and celebrate the uniqueness of the Hispanic/Latine culture in a meaningful way. Listed below are some of the events going on around Arkansas to celebrate and learn.
Celebrate Hispanic Heritage Month: