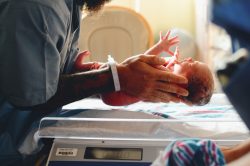 Medicaid is critical to the health and well-being of hundreds of thousands of Arkansans, from prenatal and well-child checkups to treatment programs that families hope they never need – but sometimes do.
In this new video, leaders from throughout our state are helping us highlight the importance of this vital program during April's Medicaid Awareness Month.
Medicaid is critical to our nation, as well:
Nearly 35 million children are enrolled in Medicaid and the Children's Health Insurance Program (CHIP).
39 percent of children in America are covered by Medicaid.
Medicaid covers 83 percent of poor children.
Medicaid covers 48 percent of children with special health needs.
Medicaid covers 7.7 million, or 48.8 percent of young children, ages 3 and younger.
49 percent of births are covered by Medicaid.
17 percent of parents have health insurance through Medicaid.
In 2010, Medicaid kept 2.6 Million Americans out of poverty.
Arkansas Advocates has joined the national Protect Our Care coalition during this awareness month by highlighting different aspects of Medicaid and why's such a valuable program. Protect Our Care has chosen four themes.
Substance Use Disorder and the Opioid Crisis
Medicaid enables states to tackle substance use disorders through comprehensive strategies like early prevention, evidence-based treatment and recovery support systems. Access to Medicaid can provide people with the comprehensive care they need to move into recovery.  Like any other disease, addiction must be treated for people to get better. By protecting access to Medicaid, you can support friends, family and loved ones with substance use disorders and get them the support and services they may need.
Our country's substance use problem isn't limited to the opioid crisis. Medicaid's comprehensive strategies allow us to focus on providing treatment for ALL substance use disorders. The first step in preventing substance use issues is making sure everyone has accessible and affordable health insurance. Medicaid is a very important part of making that a reality.
Coverage for All
Children in Arkansas have benefited from the Medicaid ARKids First program. In 2016, the percentage of uninsured children in Arkansas reached a historic low of 4 percent. Although the percentage rose slightly in 2017, it is still at the second-lowest rate in in history.
We recognize how Medicaid expansion has helped millions and raised awareness for those who historically have been left behind. Medicaid does so much more than improve people's health. It also helps lift millions of families out of poverty by shielding enrollees from high out-of-pocket costs. To learn more, check out this recent study on how Medicaid expansion causes a significant reduction in the poverty rate. Medicaid enrollees are more likely than uninsured individuals to use preventative care and to receive treatment for depression and diabetes. Expanded Medicaid means fewer sick days. Its expansion is associated with increased preventative care, reduced emergency department use, and improved self-reported health among low-income adults.
Medicaid, Rural American and Veterans
Rural American adults are less likely to have private coverage than those in urban areas. Arkansas is one of the states that experienced the biggest drop in uninsured adults in rural areas. Medicaid expansion in Arkansas has helped bridge this gap by providing health care access. Rural communities face many unique health challenges, like longer distances to their providers and more chronic conditions and disabilities. Medicaid plays a significant role in filling these gaps and alleviating the burden of limited access.
The Cost of Blocking Medicaid
We cheered the federal court ruling last week that found Arkansas's first-in-the-nation work-reporting requirements violated the purpose of Medicaid: the provision of medical care for the needy.
Cutting eligibility, benefits and funding for Medicaid worsens the health of individuals and families. Individuals who have health coverage are better able to stay healthy, which makes them better able to work. We need to focus on increasing access to care and NOT work reporting requirements. Work reporting requirements make it harder for parents and caretakers to care for their loved ones.
These attacks on Medicaid are inadvertently attacks on families. The state's attempts to save money by cutting Medicaid don't work, because they only increase uncompensated care costs for hospitals and safety net providers and drive up cost for everyone.