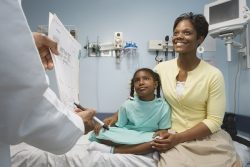 A new report from the Georgetown University Center for Children and Families and the University of North Carolina Rural Health Research Program shows children and adults in small towns and rural areas in Arkansas rely on Medicaid and ARKids First, the health coverage program for children, more than those in urban areas (referred to as metro areas within the report). The impact is particularly powerful in Arkansas because more than a third of the population lives outside of urban areas.
The report finds that 61 percent of children in rural areas and small towns in Arkansas receive health coverage through Medicaid and ARKids First, compared to 46 percent in urban areas. For adults, 21 percent in non-metro areas are covered by Medicaid, compared to 16 percent in metro areas.
The report also found that Arkansas Works, the state's Medicaid expansion program, is having a greater positive impact on small towns and rural areas in Arkansas. Across the state, the rate of uninsured adults in these areas decreased significantly from 2009 to 2015. Arkansas ranks eighth in the nation for decline in the uninsured rate among adults in small towns and rural areas. We also saw drops in the rate of insured children in these same parts of the state because children are more likely to be covered when their parents have coverage (called the welcome-mat effect).
When children and families have access to coverage, it strengthens the whole community. In addition to getting children and families the access to health coverage that they need, families have fewer emergency room visits, and hospitals have reductions in uncompensated care. This highlights the important role of Medicaid in rural Arkansas communities as a link to critical care, an important support to local health care professionals, and ultimately, a job creator.
Because Medicaid provides critical access to life-saving treatment and protection from rising health care costs for many children and families living in small towns across the state, cuts to Medicaid would take those protections away from many and reduce their financial stability and overall ability to get much-needed care.
Find more information about the federal proposal to repeal the Affordable Care Act and cut Medicaid funding in our recent blogs on the recently pass House bill and the Congressional Budget Office analysis.
Read the full Georgetown CCF report and view interactive maps showing a county-by-county breakdown of health care coverage here.
Find the Arkansas Times' coverage of this report here and read about how one small-town Arkansas hospital, Baxter Regional in Mountain Home, has thrived under the ACA.