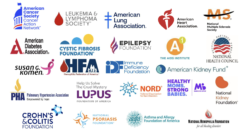 Leading patient advocacy groups sounded the alarm today about the massive number of Arkansans who've already lost Medicaid coverage during the first month of our state's "unwinding" of the pandemic Public Health Emergency. Twenty-three organizations from the American Cancer Society Action Network to to the March of Dimes called on Gov. Sarah Sanders to take a pause in the process that created this loss of coverage until a thorough analysis can be completed.
"It is imperative that the Sanders administration and the Department of Human Services evaluate this troubling report and determine why the percentage of administrative issues is so high before continuing the redetermination process," the organizations said.
Earlier this week, Advocates for Children and Families made that same ask of Gov. Sanders to pause this process. As stated in our previous post, more than 72,000 Arkansans lost their coverage on May 1. Most alarmingly, more than 29,000 of those were children.
We're very concerned that the vast majority of people kicked off Medicaid — 54,411 — were taken off without DHS having determined their eligibility status. This huge share of what are called "procedural" terminations should be a red flag to Arkansas leaders, including Gov. Sarah Sanders.
Along with the patient advocacy organizations, we are hopeful that Gov. Sanders will direct Arkansas DHS to pause procedural terminations until the state can figure out why so many people are losing coverage without a true determination of being ineligible based on income. Continuous health insurance coverage is vital for a healthy Arkansas population, and no one who is eligible for Medicaid should have to go without coverage.