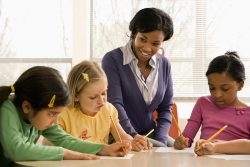 Arkansas Advocates for Children and Families (AACF) and the Arkansas Campaign for Grade-Level Reading (AR-GLR) have researched the new federal Every Student Succeeds Act (ESSA) and the opportunities it provides to improve educational outcomes for all students in Arkansas. In contrast to the previous federal No Child Left Behind (NCLB) legislation, which focused almost entirely on third grade through high school, ESSA allows Arkansas to leverage its successes in early childhood education and develop a more coherent system that would increase the likelihood that all Arkansas students can read by the end of third grade.
In February 2017, AACF and AR-GLR submitted our ESSA recommendations to the Arkansas Department of Education (ADE), the State Board of Education, and ADE's Vision for Excellence in Education and Arkansas Accountability System Steering Committee. Our recommendations are based on extensive research and coordination with the Arkansas Department of Human Services' (DHS) Division of Child Care and Early Childhood Education (DCCECE) and other stakeholders to create a new vision for birth-through-third grade education in Arkansas under ESSA. Click here to read AACF and AR-GLR's full recommendations for the state's ESSA plan, which are summarized below:
IMPROVE EARLY CHILDHOOD EDUCATION & PRE-K QUALITY AND ACCESS: Improve the quality and capacity of early childhood programs, coordinate instruction and policies with the K-12 system, and support communities in expanding pre-K access for more families.
IMPROVE K-3 READING INSTRUCTION AND POLICIES: Use early warning systems to address reading difficulties; ensure that all elementary teachers have the skills and tools they need to teach children to read; encourage and support schools and districts to provide differentiated instruction to meet the needs of all students; report K-3 assessment scores in school and state report cards; and adopt grade promotion policies that use grade retention as a last resort.
EXPAND HIGH-QUALITY AFTER-SCHOOL AND SUMMER PROGRAMS: Provide funding and support for high-quality out-of-school programs that have proven to help improve grade-level reading.
REDUCE CHRONIC ABSENTEEISM STARTING IN EARLY GRADES: Define chronic absence in state statute or rules and regulations and use it as a School Quality and Student Success indicator; require schools and districts to publicly report chronic absence rates by grade level; promote chronic absenteeism as a diagnostic tool for school improvement; and educate parents about the importance of regular school attendance.
ADOPT POLICIES TO IMPROVE SCHOOL DISCIPLINE AND REDUCE RACIAL DISPARITIES: Adopt research-based discipline policies that keep kids in the classroom and reduce racial disparities in discipline.
PROMOTE AUTHENTIC FAMILY AND COMMUNITY ENGAGEMENT: Define family engagement and hold districts accountable for implementing effective policies and programs; provide funding or incentives to expand the Community Schools model; increase access to books in students' homes; and encourage parents and caregivers to read and talk to their children.
ADOPT AND REPORT MORE MEANINGFUL MEASURES OF SCHOOL QUALITY: Adopt multiple measures of school success that consider the whole school and the children they serve—not just a single letter grade; use standardized tests as early diagnostic tools for students, parents, and teachers—not as a punishment; include school climate and teacher and principal turnover in state and school report cards; and maintain focus on equity by continuing to disaggregate data and target resources to children who need greater educational investment.
Last week ADE released its first draft of the state's ESSA plan. ADE will post a more complete second draft on May 15, 2017, followed by a 30-day public comment period, so it is not too late to get involved. The state must submit its final proposal to the U.S. Department of Education in September 2017. AACF and AR-GLR will keep you updated on the state's ESSA's planning process, what it means for schools and families, and how you can get involved.