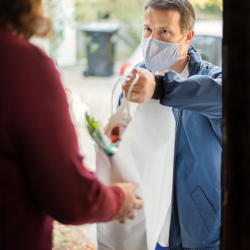 Tomiko Townley currently serves as the Advocacy Director for the Arkansas Hunger Relief Alliance. The Alliance is a collaborative organization that works on behalf of and with Arkansans facing hunger.
When the COVID-19 pandemic hit, Tomiko was working as a SNAP Advocate for the Alliance.
Prior to COVID there were glaring barriers with the Supplemental Nutrition Assistance Program (SNAP, formerly Food Stamps) that Tomiko had documented on behalf of the Arkansans she worked with. There were many misunderstandings of what SNAP was meant for. SNAP is intended to provide healthy foods as a supplement to other food purchases. People who need food assistance typically believe that SNAP will cover the full amount of their food needs, but that is not the case. Many times, SNAP recipients would be running low on benefits by the end of the month, and they must make do with less nutritious foods.
Tomiko worked with homeless Arkansans, taking them to the DHS office to apply for emergency benefits. But a main portion of Tomiko's job was to travel around the state to do story tours and in-person application assistance. The SNAP application is complicated and requires a lot of documentation. Most people need assistance filling it out, especially older Arkansans and those who live in rural areas. At the state level, there are many barriers  implemented that cause eligible Arkansans to not apply at all because they believe they are ineligible. Or, if they apply and the application is denied, they don't know that they can appeal that decision. Instead, many people assume that the denial means they are ineligible for benefits. That is why the in-person education piece along with application assistance was so important.
Prior to the pandemic, the public didn't have a lot of interest in the challenges that people faced in accessing food benefits. There is a lot of stigma, especially in small communities where people may all know each other. People were embarrassed to tell the world they were on SNAP. A lot of time was spent on trying to bring people back into the system who qualified but who had major challenges, such as older adults. They get the least benefits and often have mobility and other disability issues. Trust building was so critical, but it is incremental and requires advocates to go above and beyond to get to them their benefits.
Unfortunately, when the COVID-19 pandemic hit, it made Tomiko's job impossible because there was no way to safely continue that in-person work. State offices were shuttered. To file an application people had to complete it on paper and leave it in a box outside their county office, which many people didn't feel comfortable doing. In addition, there were suddenly thousands more people needing food benefits who were applying, and the backlog in cases was very severe.
When the pandemic hit, the immediate goal was to figure, out as an agency, how they could do an emergency response to the immediate hunger need because it was clear that applying for and receiving benefits would take a lot of time that people didn't have. They needed food now. People donated grocery store gift cards and diapers to the Alliance. They were able to distribute those by working with the advocates on the ground who had contact with the families in immediate crisis. They would also pick up groceries and deliver them to those families that didn't have transportation.
Schools were shut down, so one of the highest priorities was to figure out how child hunger could be alleviated. A lot of time had to be spent making sure that school meals would be available. The Alliance worked with DHS to get waivers from the federal government so additional food sites could be established in communities and so children could get grab-and-go meals instead of having to eat the meals on site.
There were too many priorities. People needed assistance with food, housing, etc. The Alliance worked with partners to refer people for benefits for unemployment and housing. They realized quickly that many of the older volunteers at food pantries need help. Food pantries had to step up services and many did, offering drive-through pick up.
But despite all this, there was still a huge need for food assistance, and because of the constant changes it was very hard to understand how the state was processing SNAP applications. The entire system is confusing to advocates, so it's going to be confusing to people applying. The Alliance knew that people still needed help applying for and following up on their SNAP applications. But in-person assistance wasn't possible due to the pandemic. So, they transitioned to a call center to help people apply for SNAP; and because they contracted with DHS, they could follow up on the applications.  A major issue in applying for SNAP or other benefits was there were not enough people working. Staff were being moved out of positions with WIC, SNAP, etc. to help with contact tracing.
If there is one thing that Tomiko wants the public to understand it is that, "These are not new issues. They have existed for decades, and they're only now being illuminated by the pandemic. We cannot forget them once the pandemic is over. There is so much separation between the way we apply for benefits that it makes no sense. To help families successfully transition out of hunger we need to wrap around services. Right now benefits are siloed in a way that only hurts the applicants. We need everyone to keep this level of energy that we gained from the light the pandemic shone on this issues to help make sure that accessing food in the future can be much easier for those who need the benefits."