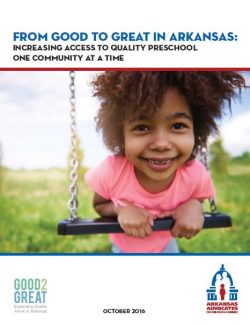 In 2013, southern Arkansas communities Marvell-Elaine and Prescott began working to improve educational outcomes for their children. Both communities were already good places for kids, but they wanted to be great places where all children would thrive, especially in their educational endeavors.
That same year, officials from the W.K. Kellogg Foundation (WKKF) came to Arkansas and talked with preschool advocates about expanding preschool services. There had been remarkable progress in the state, followed by a period of stagnation. Arkansas's preschool campaign was at a turning point.
In 2003, Arkansas passed landmark legislation to expand access to quality preschool. As a result, each year the state spends $111 million for quality preschool programs that serve almost 24,000 preschoolers. Around the same time, the Arkansas Better Beginnings quality rating
system was created. It offers a step-by-step process for increasing program quality through professional development for educators. These positive results made Arkansas a national leader in the field.
Despite those successes, after 2008, funding did not increase for Arkansas's quality preschool services. Programs were faced with making tough budget choices between quality and the number of kids they could serve.
A diverse coalition of Arkansas nonprofits proposed a plan. Arkansas Advocates for Children and Families (AACF), Arkansas Public Policy Panel (The Panel), Arkansas State University's Childhood Services (A-State), and the Clinton School of Public Service (CSPS) initiated a grassroots approach. They would choose two pilot sites in rural communities to help expand access to quality preschool. It would be a model for increasing quality preschool "one community at a time."
The partner organizations collaborated with WKKF, the Arkansas Community Foundation and the Winthrop Rockefeller Foundation, and the "Good to Great" project was born. Among its many benefits, the program helped re-define parental engagement, while also uniting diverse community members to achieve a common goal.
Now, at the sunset of the project, we take a look back at the progress these bright-spot communities have made over the years, the lessons they've learned, and the work that remains to be done to ensure all Arkansas children have access to high-quality pre-K opportunities.
Download our new report to read more about each of these success stories.