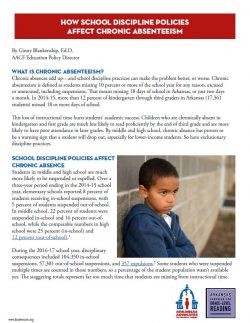 Chronic absences add up—and school discipline practices can make the problem better, or worse. Chronic absenteeism is defined as students missing 10 percent or more of the school year for any reason, excused or unexcused, including suspensions. That means missing 18 days of school in Arkansas, or just two days a month. In 2014-15, more than 12 percent of kindergarten through third graders in Arkansas (17,361 students) missed 18 or more days of school.
This loss of instructional time hurts students' academic success. Children who are chronically absent in kindergarten and first grade are much less likely to read proficiently by the end of third grade and are more likely to have poor attendance in later grades. By middle and high school, chronic absence has proven to be a warning sign that a student will drop out, especially for lower-income students. So have exclusionary discipline practices.
During the 2016-17 school year, disciplinary consequences included 104,350 in-school suspensions, 57,301 out-of-school suspensions, and 357 expulsions. Some students who were suspended multiple times are counted in those numbers, so a percentage of the student population wasn't available yet. The staggering totals represent far too much time that students are missing from instructional time. Research shows that black students in the U.S. are more likely than other students to be suspended or expelled for the same disciplinary incidents, and the rate is even greater in Arkansas than in most other states.
Fortunately, the state has made some progress. A new state law passed in 2017 (Act 1059) prohibits out-of-school suspensions or expulsions for students in kindergarten through fifth grade. The law allows exceptions for students who pose a physical risk to themselves or others or who cause a serious disruption that cannot be addressed through other means. The Arkansas Department of Education (ADE) has not created rules to define what "physical risk" or "serious disruption" mean; however, the Department intends to update its 2012 rules soon, which should incorporate those definitions.
Arkansas's plan to implement the new federal education law, the Every Student Succeeds Act (ESSA), includes chronic absence as a key indicator for assessing school and student success. It will be important to track the impact of the new discipline law on this measure.
There are other things we can do as well to keep kids accountable and in school. Read more about our recommendations in the full issue brief.