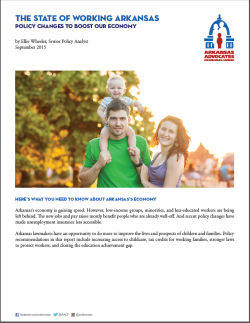 Arkansas' economy is gaining speed. However, low-income groups, minorities, and less-educated workers are being left behind. The new jobs and pay raises mostly benefit people who are already well-off. And recent policy changes have made unemployment insurance less accessible.
African Americans in Arkansas are still more likely to be stuck at part-time jobs when they need full-time work. They're also unemployed at nearly twice the rate of whites. The burdens of the recession are also lingering for many older workers, who saw their savings dry up during the downturn and were forced to put off retirement.
The rate of Arkansans who go to college is higher than ever before, but it's still modest compared to our neighboring states. Some of the fastest growing industries require new skills and more education. So we have to make quality education accessible for all Arkansans if we want our workforce to remain competitive.
New jobs and increased wages are great news for Arkansas, but we still have a long way to go. Our poverty rate is still well above national averages, and our wages are low compared to neighboring states. Child poverty in Arkansas is also disturbingly high, particularly for minority children.
Arkansas lawmakers have an opportunity to do more to improve the lives and prospects of children and families. Policy recommendations in this report include increasing access to childcare, tax credits for working families, stronger laws to protect workers, and closing the education achievement gap.