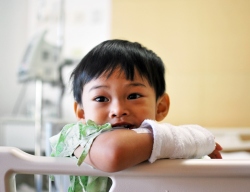 Statement from Rich Huddleston, executive director of Arkansas Advocates for Children and Families on recent threats to the Arkansas Medicaid program:
Medicaid is a critical program that helps Arkansans provide affordable health coverage for their families. Recent steps taken by the administration threaten that success and could have disastrous results for the health and financial security of Arkansas families.
Medicaid provides coverage for our most vulnerable Arkansans. Federal Medicaid dollars protect our elderly citizens and insure our children. About 900,000 Arkansans receive Medicaid, roughly a third of our population. Beyond the economic benefits of health coverage – a recent reports says the Private Option will save the state $438 million – it is our moral and societal duty to provide for those in need. A policy that takes coverage, and the security it brings, away from people who rely on it is short-sighted at best. The people of Arkansas need strong leadership and rely on the compassion of our leaders.
Due to a confusing income verification process for those people covered under the Private Option, nearly 50,000 Arkansans stand to lose their health coverage. To make matters worse, the governor's decision to block Medicaid funding for one particular provider, Planned Parenthood, could cost the state all federal Medicaid funding. In 2014, the Medicaid operating budget included more than $3.8 billion in federal funds.
Ending Medicaid would take away health coverage for thousands of our elderly and developmentally disabled neighbors, those on the Private Option and all the children on ARKids First. That's more than half the state's children.
At Arkansas Advocates for Children and Families, we believe Medicaid provides a consistent source of affordable health coverage for those who need and rely on it. We invest in and support health coverage through Medicaid because we believe – as a society and as a state – that there is value in taking care of those who need it. We believe the state should strengthen and support Medicaid and those who rely on the coverage it provides.
For more information on recent missteps in the income verification process for the Private Option, click here and here.
For information on the impact of Medicaid in Arkansas over the last 50 years, click here.