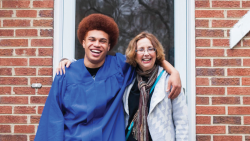 Only 12 states have a higher percentage of foster children in non-family placement than Arkansas. In its latest KIDS COUNT® policy report, Every Kid Needs a Family: Giving Children in the Child Welfare System the Best Chance for Success, the Annie E. Casey Foundation highlights this and other sobering statistics that point to the urgent need to ensure, through sound policies and proven practices, that everything possible is being done to find loving, nurturing and supported families to help raise more of these children.
Kids do best in families. And when children cannot be with their families and are placed in foster care, it is important that they are placed with a family and not in a residential facility or institution.
On any given night, about 57,000 children under the care of our nation's child welfare systems are going to bed without the care and comfort of a family. Every Kid Needs a Family emphasizes making and keeping a lifelong connection to a family. The report also highlights the promising ways that state and local government leaders as well as policymakers, judges and private providers can work together as they strive to help these children who are living in group placements.
"This is something we're working on here in Arkansas," says Jennifer Ferguson, deputy director of Arkansas Advocates for Children and Families (AACF). "In Arkansas there is a shortage of homes and the state has been awarded a federal grant (the diligent recruitment grant) to help find more families. Through this grant, the Department of Children and Family Services (DCFS) is able to hire more staff to help recruit foster families."
Kin placements, in which the children are placed with close family members, can also help. But states must have a quick process in order to place with kin, or the child may have to be placed in another home or facility while the kin goes through the process of being licensed.  One program in another state can do this process in as little as four hours. They are able to quickly identify kin and do the necessary checks to make sure it is a safe and appropriate placement.
Research also shows that foster parents with the right training can effectively care for the same kinds of children who are placed in group settings.
"It's very important for children to develop secure attachments with families while in foster care," Ferguson says. "Research shows by doing so they are better prepared to thrive in a permanent home."
While more jurisdictions are finding ways to increase the number of children being placed with families, these efforts vary widely from state to state, and even within states. Among the report's findings across the United States:
One in 7 children under the care of child welfare systems live in group placements, even though federal law requires that they live in families whenever possible.
Forty percent of the children in group placements have no documented behavioral or medical need that would warrant placement in such a restrictive setting.
While research shows children who need residential treatment likely need to stay no longer than three to six months, young people are staying in group placements an average of eight months.
Percentages of young people in group placements within states range from as low as 4 percent in Oregon to as high as 35 percent in Colorado.
The Annie E. Casey Foundation creates a brighter future for the nation's children by developing solutions to strengthen families, build paths to economic opportunity and transform struggling communities into safer and healthier places to live, work and grow. For more information, visit www.aecf.org. KIDS COUNT® is a registered trademark of the Annie E. Casey Foundation.
Arkansas Advocates for Children and Families is a statewide, non-profit child advocacy organization established in 1977. Our mission is to ensure that all children and their families have the resources and opportunities to lead healthy and productive lives and to realize their full potential.