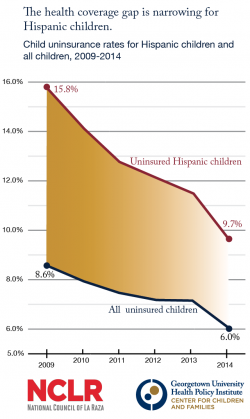 The uninsured rate for Hispanic children in Arkansas (11 percent) is more than double the rate of uninsurance for all children in the state (4.8 percent). A report released by the Georgetown Center for Children and Families and the National Council of La Raza shows the uninsurance rate for Hispanic children reached a historic low of 9.7 percent. Arkansas's rate of uninsurance for Hispanic children was comparable to the national average, but the report highlighted inequities for Hispanic children.
"The gains our country has seen in health insurance coverage for Hispanic children are enormous, but serious inequities in coverage remain here in Arkansas," said Marquita Little, health policy director at Arkansas Advocates for Children and Families (AACF). "We need to protect and strengthen Medicaid and ARKids First so that all children, no matter their background, can access the care they need."
According to the report, Hispanic children were much more likely to have health insurance in states that have taken multiple steps to expand coverage for children and parents. The success of ARKids First has helped lower the uninsurance rates for children overall, but continued outreach and policy changes are necessary to close the gap for Hispanic kids.
"Our priority needs to be covering all Arkansas children. We know kids with health coverage have a better chance to succeed in school and in life, so we need to do everything in our power to ensure children have access to the health care coverage that's best for them. We've been doing a great job at that through ARKids First, but clearly there is a need to fix some inequities that still exist," said Little. "Our investment in kids today is an investment in Arkansas's future."
Nationally and in Arkansas, an overwhelming majority of Hispanic children are U.S. citizens. If their families meet income and other guidelines, they would be eligible for ARKids First. That's why outreach to the Hispanic community is so important. Non-citizens who lawfully reside in Arkansas currently have to wait five years before becoming eligible for ARKids First. The state has had the option since 2009 to remove this five-year waiting period, and, as a result of increased CHIP matching rates, it would not require any new state funding. Twenty-eight states and the District of Columbia already have taken this option. It  would allow lawfully residing immigrant children to immediately access ARKids First if eligible, rather than forcing them to wait.
This would serve some of the uninsured Hispanic children in Arkansas, and it is also particularly important for children born in the Marshall Islands. Marshallese children lawfully reside in the U.S. but currently have no access to health care coverage.
Families who would like to know if their children are eligible or would like to apply for coverage should visit https://www.arkidsfirst.com.