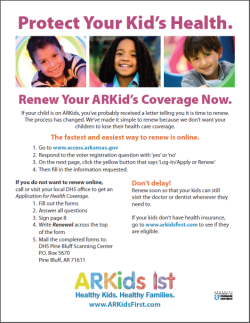 Currently, the health care issues in the forefront are the Private Option (or newly coined Arkansas Works) program and whether we will adopt a Medicaid managed care model, which will continue to be debated by the Health Care Reform Task Force and lawmakers in the upcoming special health care session. However, an even more pressing concern is still lingering in the background — children and families who are unable to enroll and keep their health care coverage.
One of the key lessons from the past year of challenges with the enrollment and renewal process is the need to improve education and outreach to families.
Several months ago, thousands of Arkansans, mostly adults in the Private Option, were at risk of losing coverage during the annual renewal process. The major problem was resolved when the state extended the short window (to 30 days as required by Federal law) for enrollees to verify they were still eligible. Since then, about 32 percent of the individuals who had coverage end because they failed to respond on time, have been re-enrolled. A portion of enrollees were legitimately terminated because they were no longer eligible for coverage (almost 9 percent).
We still don't know the full impact of the renewal problems, but new concerns have bubbled to the surface that impact thousands of children on ARKids First. In mid-2015, DHS began sending notices to over 200,000 families telling them to renew coverage for children in their home. Information was also sent to schools, providers, and community partners. Still, DHS recently announced that over 100,000 kids (about 42,000 families) may lose coverage if families do not renew soon.
So why is this suddenly a problem, if coverage must be renewed every year? DHS will be renewing many ARKids cases for the first time since new federal requirements were rolled out on determining eligibility. Since the state was unable to do these renewals automatically, each family has to complete the renewal process online or return the application mailed to their homes.
Problems with newborn applications have also created coverage gaps for kids. Again, challenges with the eligibility and enrollment  system created barriers. These barriers prevented babies from being quickly enrolled in coverage, even when the mother was already enrolled in Medicaid. The system problem has been corrected, but there is still a backlog of over 4,000 applications that have not yet been approved. Recently, DHS reported they have trained additional workers in order to clear the backlog in the next 60 days.
It is critical for information to get to the families that need it, especially with all of the ongoing changes in our complicated health care system. Arkansas Advocates recently released recommendations about how to improve outreach and education to families after talking with in-person assisters* across the state.
We've not yet achieved the vision of a seamless coverage system in the state, and we may never get there without making adequate investments in education and outreach to families.
If a family needs to renew their ARKids First coverage, the fastest way to renew is online at www.Access.Arkansas.gov.
Download a helpful flyer detailing how to renew ARKid's coverage here: ARKids Renewal.
*In-person assisters include people licensed as Navigators, Certified Application Counselors (CAC), Outreach Enrollment Assisters (OEA), and In-Person Assisters (IPA).