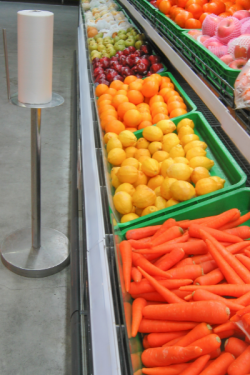 Mary's oldest daughter loves to hike, so they travel Arkansas together, hiking on different paths around the state. They then return home to Crossett, where Mary and her two daughters, ages 6 and 1, live.
Mary heard about the Special Supplemental Nutrition Program for Women, Infants, and Children (WIC) when she had her first daughter, and a friend who was already enrolled in the program told her about it. The process to apply then was not easy; the application required that she answer a lot of questions like who she lived with. And if you did not have a job, you had to get someone to sign a document saying that you were unemployed. Six years ago, the WIC program also used checks, instead of the cards they do now, that required her to buy all her milk for the month at once, which was inconvenient.
Years later, when Mary had her second child, the process was much easier because it was processed by the hospital where her daughter was staying in the Newborn Intensive Care Unit. However, there was a gap of several months between when Mary's WIC application was approved and when her daughter was released from the hospital, so her WIC account was closed, and Mary had to get it reopened.
Mary's family uses the WIC program to buy many of their groceries including milk, bread, rice, fruit, and vegetables – basically everything but meat. She said WIC helps her family so much. But there are ways that the program could work better for her family.
Her youngest daughter has chronic lung disease, and it can be stressful for Mary to have to shop for groceries during COVID, trying to make sure her daughters do not touch anything. She wishes she could use WIC for grocery pickup and thinks it would be helpful to other families who have children who are immunocompromised. WIC recipients receive a similar Electronic Benefits Card (EBT) as Supplemental Nutrition Assistance Program (SNAP) participants. However, while some stores accept SNAP EBT payments for online ordering and pickup, they do not accept WIC EBT cards. So, participants must go to the store and shop in person. Mary would also like WIC participants to be able to use self-checkout lanes. And instead of keeping track of paper receipts, she thinks an app would be more practical.
For families like Mary's, WIC can be a huge help in making sure they get the food they need. And research has shown that people who participate in WIC see improved health, developmental, and nutritional outcomes. In Arkansas, in February 2021, 49,000 infants, children, and pregnant and postpartum people were receiving WIC. Changing the program to make it easier to use could help the families already enrolled and increase the number of families who are participating.
Note: names have been changed to protect privacy.