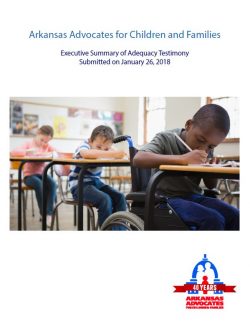 Under the Arkansas Constitution, it is the state's responsibility to provide an adequate and equitable education for all students in its public school system. The Lake View Supreme Court decision mandates the state to conduct a biennial study of adequacy and equity in Arkansas public schools. As part of this study, the state legislature's Joint Adequacy Committee invites education stakeholders to submit their concerns about the state's system of school funding. Arkansas Advocates for Children and Families has submitted written testimony to the Committee, as summarized below.
Poverty is one of the biggest challenges Arkansas schools face. Sixty-one percent of Arkansas public school students live at an income level low enough to qualify for free and reduced-price school lunches. The state has done a great deal to help mitigate these problems since the Lake View Supreme Court case was decided; however, it is clear that much work remains to be done. Only 37 percent of all third-graders are reading on grade level, and achievement gaps remain far from closed: While 42 percent of white third graders could read proficiently in 2017, only 29 percent of Hispanic third graders and 22 percent of African-American third graders could do so.
There are also significant disparities within and between districts in terms of teacher quality, recruitment, and retention; school facilities; and other critical elements of adequacy and equity. We are also at risk of backtracking on some of the progress made since Lake View. Standards are being eroded, and now 35 percent of districts and schools have been granted a total of nearly 3,000 exemptions and waivers from many of the most important standards of school quality, driven in part by tight school budgets. Arkansas Advocates for Children and Families recommends that our state address the following priorities to ensure that all children reach their full potential and to move Arkansas from adequacy to excellence:
Provide a full cost-of-living increase for all teachers annually, and ensure equity by increasing teacher pay in areas with the greatest need.
Provide adequate, equitable funding to ensure that all public school facilities exceed the minimum definition of "warm, safe, and dry."
Narrow the allowable uses of National School Lunch (NSL) funding to evidence-based programs that improve the achievement and well-being of low-income students.
Expand funding for quality after-school and summer programs.
Increase funding for special education teachers in the matrix, and fully fund catastrophic special education services based on schools' needs.
Provide annual cost-of-living increases to the Arkansas Better Chance (ABC) early
childhood education program.