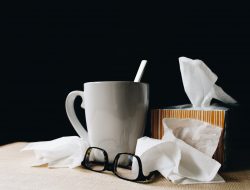 Arkansas Gov. Asa Hutchinson on Wednesday, March 11, held a live-streamed press event to announce the state's first presumptive positive case of the 2019 novel coronavirus (COVID-19). Gov. Hutchinson also announced a ban on all out-of-state travel for state officials and encouraged Arkansans to rethink their spring break plans. Later that afternoon, the World Health Organization classified COVID-19 as a global pandemic.
As news and developments regarding (COVID-19 continue to unfold by the day, individuals and communities are responding in a wide range of ways. Stocks are plummeting. People are stocking up on surgeon masks, toilet paper and canned goods. They probably don't have to. But it is an opportunity to reflect on the policy choices we've made that limit – or enable – our ability to respond to public health threats. As of this writing, Arkansas has 14 people "under investigation" for COVID-19, and another 111 people being monitored for symptoms.
The Center for Disease Control (CDC) has issued instructions to "stay home when you are sick," but Arkansas is among the majority of states with no mandatory paid sick leave policies.
Nationally, 64 percent of private sector employees have access to paid sick leave days, but this number varies by industry and income level. Only about one in four of the lowest paid employees has access to paid sick leave, but for wealthier workers the number is closer to nine in 10. Our home health aides, early childhood workforce, and restaurant employees are at the biggest risk.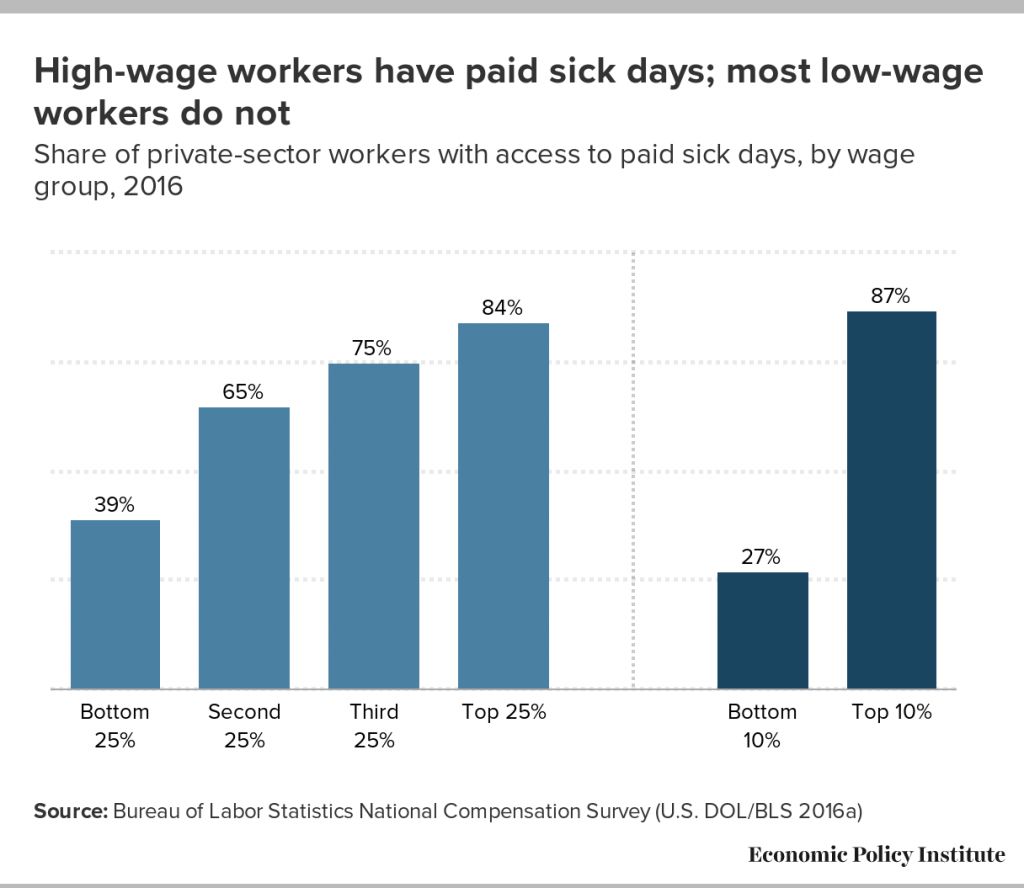 The problem is most severe in our service sector: 69 percent of lower-paid workers in the food service industry lack paid sick leave. That could be why one in five food service workers has reported working at least once in the previous year while sick with vomiting or diarrhea, according to the CDC. People need their paychecks to survive.
Parents without paid sick leave are stuck with the decision between going to work sick and putting others at risk or risking their children's well-being when they lose wages. For those without health insurance, the high cost of medical bills further compounds the risk.
Outbreaks like COVID-19 sharply highlight that paid sick leave isn't just about economic opportunity, but also about public health. While this coronavirus is new, research into the flu suggests that paid sick leave policies do help address public health problems – a study of U.S. states and cities that have enacted mandatory paid leave showed that sick pay mandates reduced the flu rate by as much as 40 percent.
This year's flu strain has already been especially tough on Arkansas, and our lack of mandatory paid sick leave has only hampered efforts to contain the virus. Since September 29, 2019, there have been 32,960 positive influenza tests in Arkansas reported by health care providers to the Arkansas Department of Health online database, with more than 1,550 positive tests in the past week (March 1-7 alone). This is only a fraction of the state's flu cases, because they aren't required to be reported to the Department of Health. Absences in schools, of both teachers and students, have led to entire districts closing for one or more days. This is the fourth-highest year in terms of flu-related deaths.
The number of cases of COVID-19 in Arkansas will surely rise rapidly, as the novel virus is exponentially more contagious than typical influenza viruses. In the short term, Arkansas must work closely with the CDC and other federal agencies to prevent or limit the spread of COVID-19. In the longer term, we must begin to recognize that policies that make it easier for workers to take care of themselves often benefit society in ways that aren't always immediately obvious.
Additional Resources
Arkansas Department of Health: COVID-19