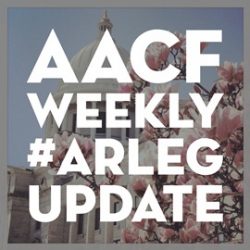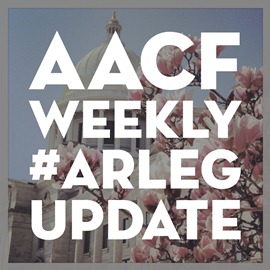 This was a fairly lively week at the State Capitol. In case you missed it, here are some of the highlights and a few things to look out for next week:
FAMILY ECONOMIC SECURITY: On Thursday, Governor Asa Hutchinson signed Senate Bill 125 into law (now Act 182) that expands access to paid maternity leave for Arkansas state employees. This is a monumental change that puts Arkansas ahead of most other states–especially those in our region–in providing access to paid maternity leave. Read more about it in our new blog post.
UNEMPLOYMENT INSURANCE: A bill that would reduce the time and total cash amount of unemployment insurance moved one step closer to becoming law this week by passing on the House floor. The bill (HB1405) doubles down on cuts to unemployment insurance that legislators already voted for in the previous session.
HEALTH: This week, SB355 was filed, which would end the state's expanded coverage program for low-income adults. While the bill requires enrollees to be transferred to traditional Medicaid after July 1, 2017, the program will end altogether on December 31, 2018. Currently, about 300,000 Arkansans receive coverage through this program.
COMING UP NEXT WEEK
JUVENILE JUSTICE: SB294 will be presented as a "special order of business" at the Senate Judiciary Committee at 10 a.m. on Wednesday, Feb. 22, in Room 171 at the Arkansas State Capitol. SB294 is important because it will eliminate life without parole as a sentencing option for minors and create a more age-appropriate sentencing standard in compliance with the United States Constitution for minors who commit serious crimes. This bill adheres to recent U.S. Supreme Court rulings which recognize that youthfulness both lessens a juvenile's moral culpability and enhances the prospect that, as a youth matures into an adult and neurological development occurs, these individuals can become contributing members of society. Listen to a podcast we recently aired on Life Without Parole here.
ARKANSAS CAMPAIGN FOR GRADE-LEVEL READING DAY: Wednesday, Feb. 22 is the Arkansas Campaign for Grade-Level Reading (AR-GLR) Day at the Capitol. The day will begin with a legislative breakfast at 7:30 a.m. at Capitol Hill Apartments and will include opportunities to advocate for policies that benefit all Arkansas children, including support for expanded quality pre-K programs, after-school and summer programs, and more. The event will conclude with legislators reading to pre-K students at the Capitol. Join AACF, AR-GLR and other partners for this special event! Register here.
See below for a look at all the bills we're tracking so far. Keep an eye on our blog for the latest news and updates. And follow us on Facebook and Twitter for additional thoughts and analysis. Sign up to receive weekly legislative alerts here.