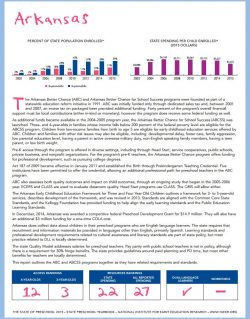 Today, the National Institute for Early Education Research (NIEER) released their annual Yearbook that rates and ranks state's pre-K programs.
There is some good news: enrollment was up by 3,400 children in 2014-2015*, including 3,300 3-year-olds, while maintaining high quality and meeting nine of NIEER's 10 quality standards benchmarks.
There is also some bad news: our national ranking in state resources (money allocated to pre-K) has fallen to 22nd from 13th. We know that we cannot continue to have a high-quality program without any new, ongoing money. In our recently released report, The "Elements" of Quality Pre-K, we describe the 10 quality standards and match them to the funding increases required for our wonderful program to continue to thrive.
Dr. Steve Barnett, the Director of NIEER, who visited Arkansas last week for meetings with legislative and community leaders and pre-K advocates, believes "Arkansas's economic future depends on early investment in its kids. Ensuring that every child has access to high-quality preschool is the best way to pave the way for their success in school, on the job, and in communities across the state. We've witnessed both progress and setbacks for early education in Arkansas, and more remains to be done. Arkansas's kids, their families, and the state depend on it."
From studies of our pre-K program, we know that our program increases kids' vocabularies and produces literacy benefits that persist through third grade, we know that children who participated in our ABC program are less likely to repeat a grade than their peers, and we know that Arkansas's quality pre-k program narrows the achievement gap so all children can start Kindergarten ready to learn.
These wonderful results will continue only if we invest. Let's make the economic powerhouse that is our pre-K program a legislative priority.
Read the full NIEER report here. Arkansas-specific data can be found here.
*Note that this is the year before the one-time money for the ABC program and the year before the federal expansion grant began.