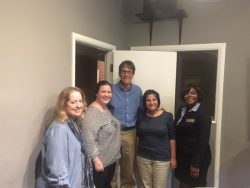 On April 19, 2017, at 5 p.m., Arkansas Advocates for Children and Families and KABF 88.3 aired the sixteenth episode of "Speak Up Arkansas," a talk radio show dedicated to covering issues like health care, education, juvenile justice, the state budget, family and economic security, and more.
This week's episode featured Marquitta Little (Health Policy Director, AACF), John Sufna, Ph.D. (Assistant Professor, Department of Psychiatry, UAMS), ShaRhonda Love (Executive director at Arkansas Minority Health Commission, Dianna Varady (Director, Arkansas Autism Resource and Outreach Center), and Elaine Morrow (Parent with Medicaid Saves Lives). This episode covers health care in Arkansas and the impacts of the recent legislative session on health care for vulnerable families and their children.
Hear the entire one-hour segment in this podcast and tune in to KABF 88.3 every Wednesday at 5 p.m. for more great segments. Send questions and comments to speakupar@gmail.com.