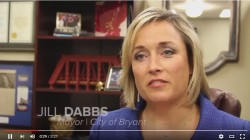 Quality early education is so important to the development of our youngest Arkansans that more people are speaking up for pre-K programs. We are excited to release the second video of our #preKstories series. You may remember the first one featuring Victor Rosa, an aspiring teacher from De Queen talking about why pre-K matters.
This time, we hear from residents of Bryant, Arkansas, where pre-K education is a community effort and priority. City, school, and community leaders all recognize pre-K as the building block for their student's success and the future of their city. Bryant football head coach Paul Calley believes that the earlier kids start, the better they will fare down the road.
Please enjoy this video and share it using the hashtag #preKstories. Stay tuned for more videos in the months ahead and let us know if you want to tell your pre-K story, too! Also check out what these state leaders in education and business have to say.