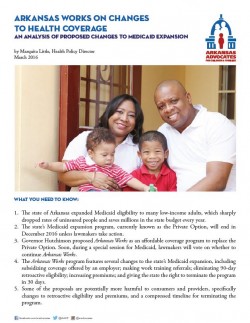 Next week, during a special session on Medicaid, Arkansas lawmakers will vote on Governor Asa Hutchinson's version of expanded health care, Arkansas Works.
Much like the Private Option has, Arkansas Works will ensure continued access to coverage for hundreds of thousands of hard-working Arkansans. However, Arkansas Works also includes changes that tend to appeal to more conservative lawmakers.
The proposed changes include:
Subsidized Employer-Sponsored Insurance (ESI):

Employed individuals eligible for

Arkansas Works

will be required to enroll in their employer-sponsored insurance plan (if their employer participates in the program). The health plan will be subsidized with Medicaid dollars to cover the premium. The state will explore incentives to encourage small businesses to participate.

Work Training and Referrals:

Unemployed individuals eligible for

Arkansas Works

will be referred to the Department of Workforce Services to find employment and receive work training. Students and full-time caregivers will be exempt.

Cost-Sharing for Enrollees Above 100% of the Federal Poverty Level (FPL):

Individuals enrolled in

Arkansas Works

who earn above 100% of the FPL will be required to pay monthly premiums. A flat rate of $19 was proposed. Failure to pay after a 90-day grace period will result in a debt to the state.

Eliminate 90-Day Retroactive Eligibility:

Retroactive eligibility is a standard feature in state Medicaid programs, and it covers expenses incurred 90 days before an individual enrolled.

Arkansas Works

would eliminate retroactive eligibility.

Expeditious Termination of Waiver:

The state will have the right to terminate the program by providing a 30-day notice to end the demonstration waiver.
The transition from the Private Option to Arkansas Works is very important because lawmakers will be setting the course for the future of health care in the state. Coverage must continue to be comprehensive, affordable, and accessible regardless of income. By ensuring everyone can have a healthy, productive future, Arkansas Works also supports positive economic growth in the state for years to come. However, it's vital that the changes to the program do not create new barriers for families and reverse the impressive progress we've made to improve the health of all Arkansans.
Learn more about Arkansas Works and what its proposed policy changes mean for all Arkansans in AACF's attached report.
Below, hear the personal story of a Jonesboro registered nurse who says expanded health coverage saved her life.
Hear from even more consumers on the benefits of expanded health coverage here. #KeepARCoverage