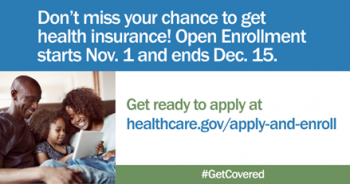 2018 Open Enrollment Resources
Because of the drastic cuts to outreach and enrollment assistance, we know getting the word out during the 2018 open enrollment period will be a challenge!  AACF has compiled a toolkit with materials and resources to help with enrollment and outreach including:
Sample social media messages for Twitter and Facebook;
Graphics and shareables to accompany social media messaging;
Outreach flyers and posters; and
Information about how to connect consumers with local in-person enrollment assistance through Enroll the Ridge.
This toolkit is accessible through Google Drive. Feel free to share this information and customize it.
AACF also produced a consumer guide available both in-print and online that walk consumers through the enrollment process and helps them understand their health insurance. This booklet, Healthy for Life: A Guide to Using Your Health Insurance, is available online here.
We owe a big thanks to our national partner, Community Catalyst, for providing us with support on outreach and enrollment resources.
Expanded Coverage is Working for Arkansas
As lawmakers at the state and federal levels continue to negotiate reforms for the larger Medicaid program, it's important to look at how big of an impact these programs have in Arkansas. Since 2014, we've seen great success with Arkansas Works, the state's Medicaid expansion program:
We dramatically cut the rate of uninsured adults, from 22.5 percent in 2013 to 9.1 percent midway through 2015, making Arkansas a national leader.
In the first year, Arkansas hospitals saw a 55 percent or $149 million reduction in financial losses from treating uninsured patients.
The state is estimated to save at least $438 million by 2021, even after including the state's share of costs for the Private Option.
When parents have coverage, their children are more likely to enroll in coverage, stay enrolled, and receive preventive care and other health services. In one year of enrolling adults in affordable coverage, over 30,000 children also got covered in Arkansas.
For more information about how expanded health coverage has benefited Arkansas families and the economy, check out AACF's fact sheet.
It's not just about coverage for adults. As Congress continues the debate about the Affordable Care Act (ACA) and a replacement plan, a lot hangs in the balance for children, too. According to the Urban Institute, repealing the ACA will double the number of uninsured kids. In Arkansas, this means that at least 34,000 kids would lose their coverage and as many as 127,000 Arkansas children could lose coverage if we get rid of the federal law that keeps ARKids First eligibility requirements at current levels. For more informaiton about how the federal health care bill could impact kids, read our fact sheet on the impact of the federal repeal bill on kids.
For the latest on the federal health reform debate, AACF has recently released several blog posts on the issue:
The American Health Care Act Would Effectively End ACA Medicaid Expansion
Medicaid is Lifeline to Health Coverage for Families in Rural Arkansas
New Congressional Budget Office Report Shows Federal Health Care Bill Still Harmful for Kids and Families
Federal Health Care Bill Would Hit Rural Arkansas Hard
AACF Statement on the American Health Care Act (AHCA)
Report Shows Repeal of ACA Would Double Number of Uninsured Kids
AACF hopes that affordable health coverage continues to be a priority for policymakers.
Let your lawmakers know how important Medicaid (including ARKids First) and Arkansas Works are to Arkansas, our health, and our economy. If you don't know who your lawmaker is, you can find out how to contact them here (see the search bar on the right-hand side of the screen).
Consumers agree that expanded health coverage is working in Arkansas! Watch the series of videos below to hear from Arkansans: