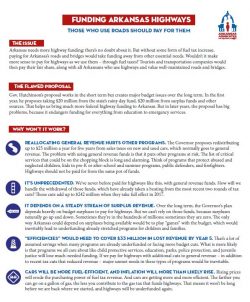 In a special session beginning later this week, Gov. Hutchinson and Arkansas lawmakers will make decisions on how to fund Arkansas's highways, many of which are in dire need of repairs.
Gov. Hutchinson's proposal for highway funding works in the short term but creates major budget issues over the long term. In the first year, he proposes taking $20 million from the state's rainy day fund, $20 million from surplus funds and other sources for a total of $46.9 million in additional highway funding. That helps us bring much more federal highway funding to Arkansas. But in later years, the proposal has big problems, because it endangers funding for everything from education to emergency services.
Arkansas needs more highway funding; there's no doubt about it. But without some form of fuel tax increase, paying for Arkansas's roads and bridges would take funding away from other essential needs. Wouldn't it make more sense to pay for highways as we use them – through fuel taxes? Tourists and transportation companies would then pay their fair share, along with all Arkansans who use highways and value well-maintained roads and bridges.
Read more about the potential flaws in the proposed plan, plus learn about our suggestion for a modernized fuel tax in this special one-page brief on highway funding, written by senior policy analyst Eleanor Wheeler.
Also, watch as she breaks down the issues in the video below: