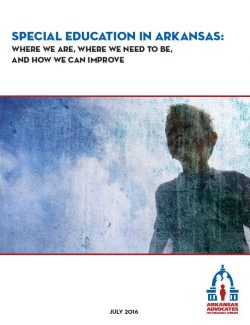 Arkansas serves nearly 56,000 students through special education programs. The state constitution guarantees every child access to the advantages and opportunities of free, public education. It also charges the legislature with adopting all suitable means to make it happen. This means that the state and its school districts have a responsibility to meet the needs of every student — including those with an individual education plan (IEP) — and to set them on a path to success.
Arkansas Advocates for Children and Families firmly believes that all children should have access to quality educational experiences regardless of income, geography, or disability. Because of that belief, during the 2015 legislative session, we supported and testified before the House and Senate Education Committees for the creation of a special education task force. The task force became a reality thanks to Act 839 of 2015. Since August of last year, the task force has met monthly to review data and information about a multitude of areas in special education.
Today marks an important moment for special education in Arkansas, as we release a report focusing on some of the key issues identified in Arkansas special education, along with our recommendations to improve services for children. AACF's Education and Fiscal Policy Analyst Bailey Perkins will also present the findings and recommendations today before the Legislative Taskforce on Best Practices in Special Education.
Here are just a few of the issues identified in the report, along with actions that Arkansas and individual school districts can take to help ensure that all children get a quality education.
The state needs more funding for special education teachers. We should consider following the Picus and Odden recommendation of increasing the current funding matrix to 3.3 special education teachers per 500 special education students instead of the current 2.9 per 500 students.
Schools need clearer ways of informing parents of their rights and options in special education. Too many parents feel like they don't have a voice and find it difficult to navigate the complicated Individualized Education Plan (IEP) process. One idea is to create a short, easy-to-read document for parents that explains their special education rights and options. Schools would be responsible for reviewing that document with parents at the initial IEP meeting.
The state must invest in programs that will expand support for people with disabilities into rural areas across the state. Many services are concentrated in central and Northwest Arkansas. The General Assembly should fund Project Connect's expansion throughout the state.
Many Arkansas school districts rely on teaching waivers in special education because it's hard to find certified special education teachers. Funding a  paraprofessional-to-teacher program is one way to reduce reliance on waivers, increase the number of people certified to teach special education, and retain educators.
Download the full report to read more about the issues impacting special education in Arkansas, along with AACF's recommendations for improvement.