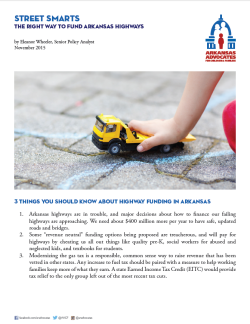 Three things you need to know about highway funding in Arkansas
1.    Arkansas highways are in trouble, and major decisions about how to finance our failing highways are approaching. We need about $400 million more per year to have safe, updated roads and bridges.
2.    Some "revenue neutral" funding options being proposed are treacherous, and will pay for highways by cheating us all out things like quality pre-K, social workers for abused and neglected kids, and textbooks for students.
3.    Modernizing the gas tax is a responsible, common sense way to raise revenue that has been vetted in other states. Any increase to fuel tax should be paired with a measure to help working families keep more of what they earn. A state Earned Income Tax Credit (EITC) would provide tax relief to the only group left out of the most recent tax cuts.