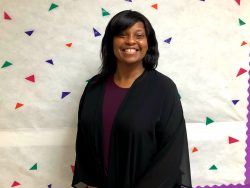 Kasey Porchia comes from a family of educators. Her mother, father, and aunts were teachers, coaches, and paraprofessionals who had a profound effect on why she chose education as her profession. They instilled in her a strong work ethic and a sense of selflessness that is needed in the profession. For the past 17 years she has worked in education as a teacher, coach, and administrator, serving the past three years as the AE Director of Murmil Education Center in El Dorado.
The center serves three districts in the area with students in grades K-12. The center is an alternative learning environment that works with children with specialized needs, like students who have anxiety in larger classroom settings. They provide a variety of services to students including mental health services, real-world experiences, Jobs for Arkansas Youth/JAG, project-based learning, and various partnerships throughout the community. She said the center aims to ensure the needs of the whole child are met. Last year the center had about 200 students.
Like many districts around the state, when the COVID-19 pandemic hit, the El Dorado School District had to quickly adjust to provide services to students and continue their education. The district's Superintendent and Director of Child Nutrition quickly mobilized administrators, teachers, paraprofessionals, nutrition staff, bus drivers, and more to ensure that students were getting the nutritious meals they needed.
The district provided hot and cold meals for both breakfast and lunch. Bus drivers delivered the meals to drop-off sites around the city including schools, the center, and an apartment complex. From March 17 to July 31, 2020, the El Dorado School District served 219,487 meals. Ms. Porchia is proud of the work the district did to deliver meals during the pandemic. For some students, she said, it could be the only meals that they had. And having nutritious meals not only help children's ability to learn, but their overall health and well-being. She said the meals delivered during the pandemic also gave peace of mind to some parents, who may have lost their jobs at the start of pandemic. The meals gave parents one less thing to worry about.
Waivers implemented during the pandemic by the United States Division of Agriculture for the National School Lunch Program made it much easier for the El Dorado School District to apply for and receive Community Eligibility. Community Eligibility allows districts in high-poverty areas to provide free school breakfast and lunch to all students. Ms. Porchia said the changes cut through the red tape, and the district had to complete less paperwork to apply. She said it puts students on an equal playing field when they and their parents do not have to worry about paying for meals. For some families, $3 a day adds up and can become difficult to pay. The free meals provided by Community Eligibility reduces stress for everyone, students, parents, and even educators who do not have to worry about whether their students are able to purchase meals.
For Kasey Porchia, schools have an important role to play to ensure children get the nutritious meals they need for their overall well-being. But she said that we all have a role to play, as communities, to make sure children are successful.