Kneco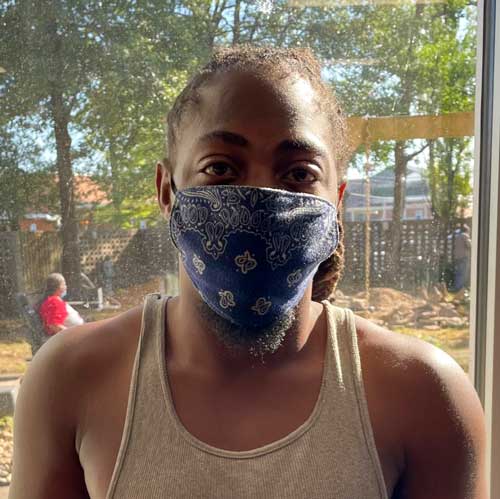 Kneco explains that Medicaid has been beneficial in his ability to receive mental health services. Kneco was diagnosed with Bipolar-Schizophrenia and states that coverage allows him to receive therapy and medication treatment to help manage his mental illness. When he is unable to manage the symptoms of his mental illness on his own, Medicaid also covers his treatment for inpatient services.
"It has done pretty good. They help you with a lot of things, a lot of things that you may usually not be able to get help with, they help you to get to your appointments."
Kneco expressed that Medicaid helps him to get to necessary medical appointments that his family is not able to assist him with due to their personal and work obligations. "It helps you not have to reschedule and be able to see your physicians."
Now that Kneco is receiving treatments to help stabilize his conditions, he is ready to work towards his personal goals. He is a father of two boys and is hopeful that when they get older they will be able to come back and live with him. He is also excited and ready to re-enter the workforce. Kneco used to work within janitorial services but is looking to attain a job doing overnight retail stocking.
---
Hannah
Hannah was able to begin utilizing Medicaid services while she was pregnant with her daughter. Before having Medicaid coverage, Hannah would only go to urgent care for her medical needs. Hannah has not had any negative setbacks with her daughter's Medicaid experiences "My daughter has AR Kids; we've had a good experience with that. We've been to her pediatrician's urgent care and haven't had any trouble. It's going well. Her medications are always free, and mine have been like a dollar." Also, her daughter has struggled with language development and Medicaid has helped to cover treatment.
"My daughter is 19 months old and hasn't spoken any words. AR covered speech therapy, and she has been referred for occupational therapy that AR Kids will cover."
Hannah's experiences with Medicaid have been a little different for adult services. "I was trying to get services at the regional mental health center. They won't see you without a doctor's referral. I got the referral from my PCP, but I realized they didn't take Medicaid so that they would charge out of pocket. I was able to discuss, realized the misunderstanding, and went ahead and made the referral." Due to their location, residents are limited to one health center for mental health needs, and Hannah addressed one of the many hurdles Medicaid patients experience. Hannah has been able to receive medication for her mental health needs. Although Hannah states that getting in for mental health services has been challenging, most private practices specialize in patients struggling with addiction. "Overall, my experience has been good. Prozac has changed my life, and honestly, I never have to go to the doctor anymore since I have been on this medication."
---
Ronda
Ronda is a higher education professional with a master's degree from Arkansas Tech University. She received Medicaid coverage throughout her childhood and expresses gratitude for the health care she has received throughout her life. She shares that through Medicaid, she was never denied services she needed. She was able to get dental care, braces, and regular health checkups. Medicaid also paid for antidepressants during a tumultuous period of her childhood.
When asked about her hopes for the future, Ronda shares, "I just want to be healthy and happy and have the freedom in my life to make my own decisions on my own time, and not be dependent on another person for any part of my life." Ronda is happy to have a future full of possibilities, and while her future remains open she is certain that it will include a cat or three.