Breanna
Participant's name has been changed to uphold anonymity of personal identity.
Breanna is a social worker in Arkansas. She shares how Medicaid was helpful to her and her family during her childhood. "I was a Medicaid recipient from elementary school up until college. I came from a working-class family. At the time I didn't realize how much Medicaid positively impacted my life. Through ARKids I was able to get yearly checkups, medications, and doctor's visits without a financial burden on my parent and/or compromising my health. With accessibility to doctor's I was able to keep great attendance in school and overall have great health." After high school, Breanna pursued a college education and completed an undergraduate and graduate degree.
"In college, I also benefited from it as I was working minimal. I didn't have jobs that offered me benefits. With Medicaid, I was able to keep going to my yearly checkups, go to the doctor when I felt ill. This allowed me to be able to finish my undergraduate and graduate degrees, and not have to worry about paying doctor's bills or tuition. This is something I will be forever grateful for."
When asked if there was anything she thinks could be improved upon, Breanna shares "I hope the application process is simplified." Often, people who need the support of Medicaid struggle to navigate the administrative requirements. She now serves her community as a school social worker and is a strong advocate for expanded Medicaid benefits.
"I hope Medicaid becomes available to everyone and I'm hopeful that it goes beyond the age of 21 for students."
---
Oveta
"For me, Medicaid picks up the shortage that Medicare is not able to cover. Because of this, I don't have to choose between buying medicine or buying food."
Oveta has been on Medicaid as a backup through her disability insurance with Medicare since December 2016; however, she describes the awful year of 2017 as "when the bottom of my life fell out." Oveta lost her job after her supervisor informed her that she didn't trust her medical judgment after being diagnosed with fibromyalgia in 2016.
The circumstances caused Oveta, who prides herself on being trustworthy, to suffer depression and anxiety. Unfortunately, she had to go through 17 months of no income before being classified as disabled. "Before I lost my job, I had 80 doctor's notes in 2 years." As a result, Oveta lost her job and her insurance. Oveta describes fibromyalgia as overactive nerves that hurt her arms, legs, joints, and entire body. " Fibromyalgia was ruled as a long-term disability in March of 2018. I am still learning about it; it messes with your judgment, and it makes you not want to do anything because you have depression, anxiety, and no drive to do anything." Oveta takes a lot of medication daily to fight this disease that causes her to hurt while doing everyday activities that we often take for granted, such as cooking and cleaning.
After losing her job, Medicaid paid for all her doctor visits. "I was going to different doctors, with different symptoms and procedures like every day. I just don't know what I would have done without Medicaid because I had it when I lost my job, and I lost my insurance." Oveta loves having Medicaid and Medicare because she can go to all her doctor's visits without paying high out-of-pocket costs. Due to being on a fixed income, without Medicaid or Medicare, Oveta insurance would take $147.00 out of her monthly eight hundred dollars, making daily living complicated. "I look back on my life and what has transpired, and I thank the Lord that I had the opportunity to have Medicaid. Medicaid cuts down on stress, and It's a peace of mind knowing that everything is available to me. That is an all-around win for me."
Despite the challenges of her condition, Oveta continues to volunteer with the Ralph Bunche Community Action Committee. For 17 years, The Action Committee has hosted an annual Ralph Bunce Back to School Picnic. She is dedicated to helping families in Benton prepare their children for going back to school.
---
Roderick
Roderick is on a fixed income and has been on Medicaid and Medicare since the year of 2000. Due to his medical conditions, i.e., high blood pressure and a severe heart condition, he has to have life-saving medication that he only pays less than a dollar for. Roderick has had positive experiences with having Medicaid, such as getting $4500.00 dental work for $25.00 out of pocket.
He also experienced having COVID-19 and was seen at the hospital after only showing his wellness card.
"I have never had any issues. I know many people have problems with the slots and only have 12 visits a year to see their doctor, but my WellCare (Medicare coverage provider) insists you visit your doctor. I don't have any problems, and I'm glad we have it."
---
Angel & Derrick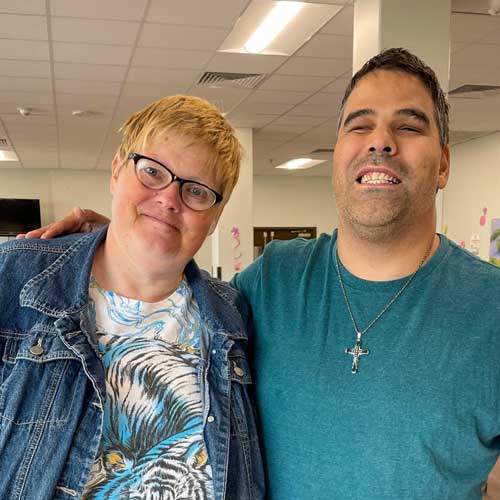 Angel and Derrick are recent newlyweds and both receive healthcare coverage from Medicaid Coverage. Angel and Derrick were both receiving Medicaid prior to their marriage due to current medical conditions. Angel shared that Medicaid has been good to her. It has helped her to get prescriptions and doctor's appointments covered. Derrick shared similar sentiments. "Thankfully it's helped to provide my health coverage for as long as I can remember." Both Angel and Derrick have been covered since they were children and are appreciative of being able to receive treatment throughout their life.
Although the majority of their experiences have been positive, Derrick did note some changes that could benefit the program. "Well the biggest thing I would say for me personally, that they improve their allotment for dental coverage I mean cause $500.00 won't clean your teeth…and they also could also improve the number of doctor slots a patient is allowed to have." In the past, Derrick had to pay $200 to $300 dollars out of pocket to get his teeth cleaned because Medicaid would not cover the entire procedure." This was difficult for Derrick because he is on social security income due to his disabilities. Angel also added that there are sometimes issues with her being able to go to the podiatrist. She stated that Medicaid will only cover two visits to see him each (? year or month) . This has been an issue for Angel since she suffers from plantar fasciitis and needs ongoing medical attention to monitor her condition.
Angel and Derrick are looking forward to the future and getting involved in the community. Derrick informed, "We are in the process at my church for starting a mentorship program for young men in North Little Rock and I am hoping to be a part of that program in some simple way. I think everybody has a story and everybody has life experiences and if you can help someone better themselves by just doing the simple task of telling your story and your experiences why not?"
"I want to volunteer with kids and with elderly people… I love kids and I love old people." -Angel
---
DP
DP was denied Medicaid in the past. In 2004, DP was diagnosed with cancer. The doctors told him that he had a cancerous spot on one of his kidneys.
"I am 60 years old, back in 2004 I went to the doctor with no medical insurance, none whatsoever. I was working part time in NLR Holiday Inn. I went to the emergency room for pain in my stomach. I had a spot on my kidney and went to the urologist, they said I had kidney cancer. I had no insurance. I got a second opinion, they said to watch it for 6 months, still had no insurance."
One of DP's friends informed him that he should get another opinion on his cancer diagnosis. "I went to a Superbowl party, someone said check out the spot again. I went to UAMS and told them I had no insurance. I got a call from the urologist; you have been approved to have your kidney removed." DP was informed that the hospital charity foundation would be covering the costs of the surgery. "I was approved by St. Vincent charity to have it removed."
Although DP was grateful to finally be approved to have the surgery, he decided to get another opinion before the date of his surgery. His current medical provider was not in support of DP's decision to seek out another provider to ensure that cancer was the appropriate diagnosis. Against the physician's guidance, DP went to another urologist. "They found out it wasn't cancer, it was a cyst." DP was shocked but grateful that he listened to himself and advocated for his own health. "Man, when the doctor told me that I have cancer on my kidney, it was devastating. I called my mom and my father. This scared the hell out of me. I was told by my momma to get a second opinion, and I did." Thankfully, DP was able to obtain employment with medical benefits. "Now I have insurance so I go and check it out. I now have insurance with my job."
DP noted some potential policy changes for the Medicaid program that could benefit the health of Black Arkansans. "Medicaid is an insurance that is readily accepted, but they do not offer you more than one specialist for the same treatment. This is an issue. Some doctors will diagnose and treat you for a condition, whether it is a true condition or not, "think about it, if I had insurance back then we would not even be discussing it today. I would be walking around with one kidney."
---
DS
DS is a current beneficiary of Medicaid services. She is thankful to have never been denied services because receiving health services has strengthened her overall wellbeing. "… They impact me and my family , for the services we need. Medicaid has provided transportation to doctor's appointments… I am able to go and see my doctor, eye doctor, dentist, a lot of it, Medicaid pays for." Medicaid has also helped connect DS to healthy foods to help enrich her overall health.
"I am glad to have Medicaid, I need all that I can get. They now have it set up so I can get farm fresh vegetables."
Covid has not hampered DS's access to seeing a doctor. During the pandemic, Medicaid has allowed DS to access healthcare services virtually without leaving the comfort of her home. "I really haven't been trying to go to the doctor during the pandemic, a lot of things they can do virtually. We can talk to the doctor on cell phones or over the computer." DS is thankful to have access to healthcare through Medicaid.
---
Sylvia
Sylvia has had Medicaid coverage off and on since 2013. She explains that Medicaid has been "a critical lifeline and safety net" as she has transitioned through various phases of life. She has participated in employer-based coverage, the Marketplace, and Medicaid.
In times when she found herself without coverage, she would put off care and checkups. She states "I would have the "what if" and "I hope" thoughts." Thankfully, once the Affordable Care Act expanded Medicaid to include childless adults, Sylvia was able resume regular checkups. At one of these checkups, she received a diagnosis that required continued care and regular prescriptions. Medicaid continues to be a safety net for Sylvia as she undergoes treatment and continues to receive care. Today she is grateful for her health and the care she has been able to receive through Medicaid insurance.
---
SS
SS has had Medicaid coverage throughout her entire life; however, once she turns 21, she will have to apply for private insurance. SS stated that she has been on Medicaid for so long that she does not know anything about private insurance, the experience of private insurance, or if she would be treated differently during her appointments. She is hoping that changing insurances will be a smooth transition for her and her newborn baby.
When SS was in the hospital for the birth of her child she felt discriminated against by the medical providers.
"I just had my baby a few weeks ago, and I feel like the doctors treated me differently because I was black. Especially when asked for an epidural or pain medication."
SS stated that she was not given an epidural after asking multiple times. However, she did receive some pain medicine eventually. SS also feels that there has been mistreatment from medical providers due to having Medicaid coverage. "I do feel that I have been given some wrong information, I do not think they would have given me that information if I had better insurance, like private insurance." SS stated that overall she did not have a bad experience with Medicaid coverage, and she is happy to be at home with a healthy and happy baby boy.
---
Bertha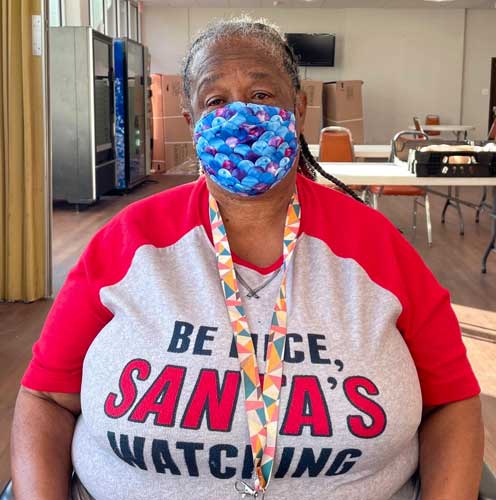 Bertha has been on Medicaid for over 10 years. Medicaid has been helpful in covering the costs of important medical treatment. "You don't have to pay doctor bills; you don't have to pay for it." Medicaid has also been instrumental in helping Bertha by providing transportation to get back and forth to doctor visits.
"For trying to get an appointment they have transportation to come and get you, it helps that they can take you back home."
Because of Bertha's age, she is able to receive additional health benefits through Medicare. "Being a senior citizen, they offer different benefits as well, dentist, eyewear, things you can order out of the catalog book that you may not be able to get out of the store if you don't have money. You can be short of money. You can get stuff for your legs, heating pads, pampers." These additional benefits have helped Bertha to live a full life with less worry and stress.
---
Celeste
Celeste was working as a CNA until she became disabled and had to retire. After receiving her medical diagnosis she was able to receive Medicaid and Medicare coverage. "It has been very helpful to me because I'm not employable." While Celeste was still in the workforce, she wasn't able to afford to receive a lot of medical services. At times, she even ignored medical concerns to avoid accumulating more medical bills on top of the ones that she already had.
With Medicaid coverage, Celeste is able to go to see her physicians on a regular basis. She is also able to benefit from transportation services to her appointments.
"It was like a miracle. I was able to go to the doctor, be seen by any doctor."
Although Celeste has been able to receive coverage, she struggles with taking care of her physical health. This is partially due to the lack of fresh foods available to Celeste. Her current residence is in a food desert and she has limited income for fresh foods. Because she is living in subsidized housing, she receives minimal food stamps. Due to her inability to work, she is forced to consume a lot of processed foods which are detrimental to her health. Although she faces challenges on a month-to-month basis providing essential and healthy food for herself, she continues to stay grateful. "Something is better than nothing." Celeste looks forward to advocating for older adults and individuals with disabilities whose voices are usually unheard. She wants to make sure that Arkansans understand the difficulties that people like her face due to their age and physical conditions.