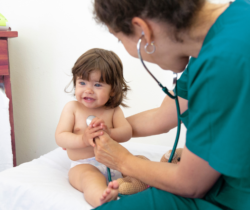 The COVID-19 pandemic exposed many cracks in our healthcare system and highlighted the importance of our public safety net programs. To protect struggling families, federal rules were updated to allow people on Medicaid to have continuous coverage if they were eligible when the Public Health Emergency was declared or if they became eligible after.
Arkansas is in the top 10 poorest states in the nation, with 22% of our children living in poverty. Unsurprisingly, continuous healthcare coverage has not only helped Arkansas's families afford medical care but has also helped rural hospitals and physicians' offices stay open.
While the federal government intended this policy change to be temporary, it allowed states 12 months to redetermine the eligibility of everyone on Medicaid and to unenroll those found no longer eligible. In 2021, the Arkansas Legislature decided that Arkansas would conduct the "Medicaid unwinding" in just six months. The Centers for Medicare and Medicaid Services warned that moving so quickly would increase the risk of terminating many people who are, in fact, eligible.
With the end of the Public Health Emergency this year, the Arkansas Department of Human Services began sending out notices in February for people to renew their enrollment in Medicaid.
Related Blog Posts:
Since April 1, more than 420,000 Arkansans enrolled in Medicaid were removed from the program, losing their coverage for the first time since early 2020. That's 36% of all Arkansans who were enrolled in Medicaid before this process began.
More than 148,000 of those were children, including 25,000+ with newborn coverage and 116,000+ children on ARKids First A (those whose parents have the very lowest incomes).
An overwhelming majority of these Arkansans lost coverage during this process for procedural reasons, meaning the state needed more information to determine if an enrollee remains eligible — not that they are ineligible.
We agree that Medicaid resources should be available to every Arkansan who qualifies. But we know that eligible children lost coverage, including infants. That means thousands of children in Arkansas have unjustly lost access to preventative care, immunizations, and important screenings at a time critical to their healthy development. These children's insurance coverage needs to be reinstated as soon as possible.
We have yet to determine exactly how many were wrongly unenrolled, but our partners and members of the community have reported losing coverage due to procedural reasons. Individuals and parents have reported losing coverage for incorrectly determined income, renewal forms sent to old addresses, and difficulty navigating administrative backlogs. And the reality is one child losing healthcare access unjustly is too many.
There has long been widespread, bipartisan support for ARKids First (the state's Medicaid Children's Health Insurance Program). That's because Arkansans understand children with consistent access to healthcare are more likely to succeed in school and in life. When kids have uninterrupted health coverage, they can get the care they need to get and stay healthy; miss fewer days of school and learn better; and finish school and earn more money as adults.
Arkansas Advocates for Children and Families is not a direct service provider. We're not a Medicaid enrollment organization. Our role here is to sound the alarm because the data is showing that this was done in a way that was too fast, too haphazard, and that has unenrolled many eligible kids and families from Medicaid. We want those people who were automatically removed to be reinstated, to get their health coverage back until it can be confirmed that they aren't eligible. Not because an overworked parent missed a piece of mail or a renewal form was sent to the wrong address.
Arkansas was once nationally recognized as a leader in children's health, reducing our uninsured rate from 23% to around 5% after the creation of ARKids First. It's time we made children's coverage a priority again and worked to ensure that every eligible child is enrolled.