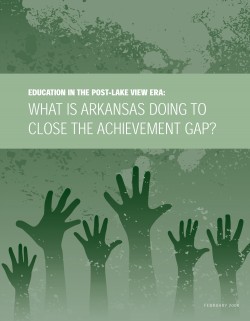 Authors tout state success, advocate multi-pronged approached to continue progress.
Arkansas has made significant progress to improve its education system since the Supreme Court's 2002 Lake View decision, but major gaps remain among students of different racial and socioeconomic groups, according to a study released today by Arkansas Advocates for Children and Families, the Arkansas Public Policy Panel, Hendrix College and the University of Arkansas Clinton School of Public Service.
Download the Executive Summary for a comprehensive overview of the full report.
Clinton School professor of education policy Dr. Keith Nitta and Hendrix College professor of politics Dr. Jay Barth authored the report "What is Arkansas Doing to Close the Achievement Gap?" which assesses whether reforms Arkansas has adopted are likely to close the achievement gap between economically advantaged and disadvantaged students and between white and minority children in the state. The study also identifies additional promising steps to close the achievement gap in future years.
Also contributing to the report were Clinton School students Sarah Argue, who is pursuing her master's in public service and Hendrix College graduate Russ Montgomery.
The report points to nationally-recognized policies implemented in Arkansas since Lake View, including increased curricular standards, a significant raise in teacher pay and more than $100 million a year for quality preschool, among other noted improvements. Additionally, Arkansas students' average ACT score grew from 17 in 2001 to 21 in 2006, while a recent Education Week study ranks Arkansas No. 8 in the nation overall for education quality.
However, National Assessment of Educational Progress (NAEP) test scores from the past dozen years indicate that major gaps still remain among racial and socioeconomic groups, according to the report. While acknowledging that there is "no silver bullet to close the achievement gap," the study advocates a comprehensive approach to addressing the problem including health agencies, local governments, universities and community groups.
"Arkansas has made great strides in improving the education system for children in recent years, but there's still a long road ahead," said Rich Huddleston, Executive Director of Arkansas Advocates for children and Families. "There are serious disparities among students across the state, and if we truly intend to give our kids every opportunity to succeed, we must be open to a variety of solutions."
"The good news is that there are proven solutions at every level, from the family and community to the legislature, and we can all play a role," said Bill Kopsky, Executive Director of the Arkansas Public Policy Panel. "Additionally, research released this week by the Pew Charitable Trust reinforces that the achievement gap is depriving too many low-income and minority children from the American Dream. This is one of the biggest issues of our time and we can solve it."
The study recommends opportunities for enhancing existing interventions:
Arkansas needs a major public communications effort to promote participation in early childhood education. If all the families of three- and four-year-olds who are eligible for free preschool put them in quality pre-K programs, it would dramatically reduce the achievement gap.
The state should launch an aggressive effort to continue improvement in teacher quality through implementing the longitudinal tracking system, and using the data to improve the way Arkansas teachers are educated, distributed and developed in service.
Any newly approved charter schools in Arkansas should be focused on reducing the racial and socioeconomic achievement gap. Current successful charter schools have distinctive traits: extended learning time, rigorous professional development, and strong school leadership.
Most importantly, the study recommends four promising new interventions:
Arkansas should re-introduce state funding to support school-based health clinics for under-served students or promote their development through the Coordinated School Health Initiative.
The state should aggressively implement any forthcoming recommendations of the Governor's Task Force on After-School and Summer Programs. Research shows that summer learning loss and unproductive time between 3 and 6pm are key causes of the achievement gap
State funding should be directed to reduced class sizes targeted to schools with high proportions of students from low-income, African American, or Latino families. Research shows that class size reduction in the early grades can significantly improve test scores and graduation rates, especially among African American students.
Arkansas can build on successes to encourage broader community-based organization to build social capital among parents. The state should sustain the successes achieved by Winthrop Rockefeller Foundation's 21st Century Programs.
En Español / In Spanish:
Este informe también está disponible en español. / This report is also available in Spanish.