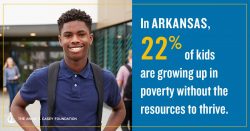 Note: This blog is first in a series of posts covering the findings in the Annie E. Casey Foundation 2019 KIDS COUNT® Data Book. Read our press release about the Data Book here.
According to the Annie E. Casey Foundation 2019 KIDS COUNT® Data Book, the number of Arkansas children living in poverty has decreased for the second year in a row, down to 156,000 in 2017, the latest year for which information is available. Despite these gains, more than one in five children in Arkansas still lives in poverty, which can leave life-long negative impacts on their future health and productivity.
And while child poverty has decreased in Arkansas, we still lag behind the rest of the nation. With 22 percent of our kids living in poverty, Arkansas ranks 43rd out of the 50 states.
What more could we be doing to promote happy, healthy kids and strong families?
Legislation sponsored by Senator Jim Hendren in the 2019 legislative session would have been a great start. Senate Bill 571, which passed out of the Senate but never gained any traction in the House, would have created a state-level Earned Income Tax Credit (EITC).
The EITC is a tax credit for low- and moderate- income workers that helps support and encourage work. Because of this, the federal EITC lifts 3 million children out of poverty every year. That means 3 million kids can have what they need to succeed, whether that's healthy, nutritious food, safe housing, or school supplies.Not only that, but these improved outcomes last for a lifetime.
A state-level EITC, which 29 states and D.C. have already enacted, helps enable kids to pursue their dreams, whether that's college or something else. That means it would also help decrease the number of teens age 16-19 that are neither working nor going to school. There are 14,000 of these teenagers in Arkansas as of 2017. While this is an improvement over 18,000 in 2016, Arkansas still ranks 38th on this metric.
Overall, Arkansas ranks 38th in economic well-being, up from 44th in 2017. Download the entire 2019 KIDS COUNT® Data Book here. You can also find Arkansas-specific information at that page.