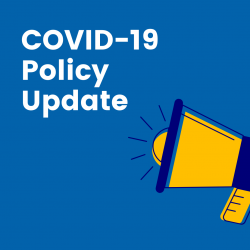 April 3, 2020
A lot has been happening at the state and federal level in response to COVID-19. Below is a breakdown of major legislation and actions that have passed, been implemented, or are moving through Congress or the state General Assembly, so far. Arkansas Advocates for Children Families will work to keep you updated on policy news at the end of each week.
Click here to see AACF's short-term recommendations for addressing the crisis at the state level. More pandemic-related blogs and publications are available here.
State Updates
COVID-19 Rainy Day Fund: On Saturday, after a midnight meeting of the state General Assembly, the Governor signed Act 1. The Act establishes the COVID-19 Rainy Day Fund that allocates $173.6 million to address needs caused by the pandemic and resulting economic crisis. Before the state can use the funds, approval must be given by a committee of the General Assembly.
Revenue Stabilization Act: In last week's newsletter, we discussed how the state's $343 million budget shortfall would result in changes to the funding of state programs under the Revenue Stabilization Act. This article from the Arkansas Democrat Gazette breaks down the cuts that will be made.
More Funding for PPE: With approval from the General Assembly, Governor Hutchinson allocated an additional $45 million (the state had already allocated $30 million) for the purchase of personal protective equipment (PPE) using the COVID-19 Rainy Day Fund. Arkansas is competing with other states and countries to purchase the equipment. And the Governor believes the additional funding will better position Arkansas to secure PPE, such as masks, gloves, and gowns.
New State Waiver: The Arkansas Department of Human Services applied for a new Medicaid waiver on Monday, which will allow the state more flexibility in running the program. Arkansas DHS requested many of the waivers that the U.S. Dept. of Health and Human Services made available during the public health emergency, like increasing the number of beds at critical access hospitals and the amount of time that individuals can stay as an inpatient. The waiver also allows for more flexibility in provider license renewals and the enrollment/reenrollment process.
Testing Capacity: Arkansas has increased the capacity of COVID-19 testing but has faced shortages in the reagents that are required to do the tests. This has made testing harder than expected, but Secretary of Health Nate Smith indicated that they will continue to increase the number of tests that are being done in the coming weeks.
Staying Home: As of this morning, Arkansas remains one of only five states with no local or state mandates for residents to shelter in place. Governor Hutchinson has said that a targeted approach is better. For example, the Governor's executive order limits gatherings to under 10 people, closed schools and restaurants and many other types of businesses. Arkansas State Parks have implemented a "day use" only policy. It prevents overnight stays at the parks, closing campgrounds, lodges, cabins, and R.V. parks. The Governor said the move was meant to discourage the use of state parks from out-of-state visitors. The Buffalo National River has closed indefinitely, including for day use.
State Fiscal Session: Arkansas's Fiscal Session of the General Assembly is set to begin on April 8th, where they will vote on bills to approve the budgets of state programs. As of Friday, two legislators have tested positive for COVID-19.
Federal Updates
Unemployment: Yesterday, the U.S. Department of Labor released the weekly number of unemployment insurance claims. Last week, 6.6 million people filed unemployment insurance claims. That is in addition to the 3.3 million people who filed claims the week before. In Arkansas, over 39,400 claims for unemployment insurance have been filed in the last two weeks.
CARES Act and Economic Security: In a recent publication, Arkansas Advocate's Senior Policy Analyst Bruno Showers broke down how the federal CARES Act will impact the economic security of Arkansas and Arkansans, including provisions around unemployment insurance.
No Special Marketplace Enrollment, at least for now: Earlier this week, President Trump declined to reopen the federal marketplace for enrolling in health insurance. His administration had been reportedly considering reopening the enrollment period given the number of individuals who are now uninsured as a result of the COVID-19 public health crisis.
Resources
Applying for Unemployment Insurance: There is a new option of applying for unemployment insurance online or by phone. You can apply here.
Applying for Medicaid, ARKids First (children's health insurance), or SNAP (formerly known as food stamps): The Department of Human Services has made changes encouraging the public to avoid in-person visits to DHS county offices and is allowing fewer people in the lobbies at the same time, increasing wait times. People are encouraged to apply online at www.Access.Arkansas.gov or to use the phone application option by calling 1-855-372-1084. County offices will be installing drop-off boxes for paper applications. And required SNAP interviews may be conducted by phone rather than in person.
WIC (nutrition assistance program for Women, Infants and Children): Contact your county Department of Health office for information on how to apply.
Department of Health Updates: You can get the latest COVID-19 updates from the Department of Health here.
Finding a food pantry: Some pantries may be closed, so call ahead to confirm.
Arkansas Foodbank pantry map
Food Bank of Northeast Arkansas food pantry network
Harvest Regional Food Bank (Texarkana)
Food Bank of North Central Arkansas
Northwest Arkansas Food Bank
River Valley Regional Food Bank
Virtual Policy Conversations
Over the next few weeks, Arkansas Kids Count Coalition will be hosting a series of virtual conversations on policies impacting kids and families in the state, both due to the pandemic, but also ongoing policy issues. Details of the next conversation are below.
Food Insecurity:
When: Wednesday, April 8th, from 1:30pm-2:30pm
Where: Zoom video and audio conference
Join Arkansas Kids Count Coalition for a virtual policy conversation on food insecurity. We will talk about emergency assistance needs because of coronavirus, as well as long term policies that are needed to decrease food insecurity in the country and our state. The conversation will be led by Tomiko Townley with Arkansas Hunger Relief Alliance and Melvin Clayton from Arkansas Advocates for Children and Families. Tomiko and Melvin will start with an overview of the current policy landscape, but most of the meeting will be dedicated to a discussion with participants.