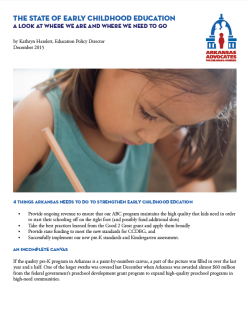 Our pre-K paint-by-numbers picture is closer to completion after this past year and a half. Let's take the next year and a half and fill it in completely. This is within our reach. All we have to do is:
provide ongoing revenue to ensure that our ABC program maintains the high quality that kids need in order to start their schooling off on the right foot (and possibly fund additional slots)

take the best practices learned from the Good 2 Great grant and apply them broadly

provide state funding to meet the new standards for CCDBG, and

successfully implement our new pre-K standards and Kindergarten assessment.
Then, all our canvas will need is a few finishing touches.
Read the report for a full summary of where we stand on early childhood education, and what we need to do to make things better.