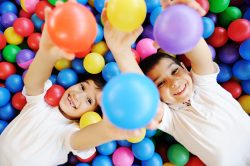 Our legislators are converging in Little Rock today to begin the 91st General Assembly. They will make hundreds of decisions about education, health care, child welfare, economic self-sufficiency, tax policy, and juvenile justice. These decisions will impact the everyday lives of all of Arkansas's children. The question is: are you ready to speak up on their behalf?
Arkansas Advocates for Children and Families will be at the Capitol every day of the session. We'll be tracking important bills, analyzing their impact, talking to legislators, and testifying in committees. But in order to influence legislation that will directly impact the kids of our state, we need you to let your lawmakers know that you care about these issues – and that you stand with kids on the things that matter most. 
There are so many ways that you can be a voice for kids during this legislative session:
Sign up here for AACF legislative alerts and updates. We'll let you know when important bills come up for a vote, and how you can reach out to your elected officials and ask them to stand up for kids at the Capitol.And you'll receive our weekly summary of what went on under the dome, so you can stay informed.
Become a member of the Arkansas Kids Count Coalition. The Arkansas Kids Count Coalition is a nonpartisan and nongovernmental group of individuals and organizations coming together to form an independent and strong voice for children at the Arkansas State Capitol and in Washington, D.C. Join us! Click here to find out what we do, and how you can become an individual or organizational member.
Mark your calendars for Tuesday, January 31, and join the Arkansas Kids Count Coalition, Arkansas Advocates for Children and Families, and child advocates from across the state as we raise our voices on behalf of the education, health, safety, and economic well-being of Arkansas's children. Learn how you can participate in the legislative process, meet with local legislators, attend legislative committee meetings, and observe lawmakers voting on bills that affect the day-to-day lives of children and their families in our state. Register here.
For more information about the Arkansas Kids Count Coalition or the AR Kids Count Day at the Capitol, contact Kerri Sernel at ksernel@aradvocates.org or call (501) 371-9678, ext. 108.