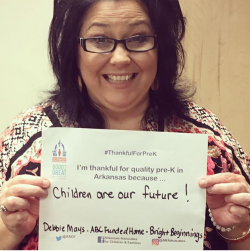 Over the past week, numerous friends and partners have joined AACF and the Good2Great Campaign in sharing why we're #ThankfulForPreK.
We already know that quality pre-K gives our children the educational foundation they need to succeed and teaches them imperative social-emotional skills. We also know that pre-K in Arkansas benefits the state as well, preparing the next generation with the skills they need to be successful members of the workforce.
Thanks to your awesome participation, we've identified even more reasons that quality pre-K is important to Arkansas's children and future. Scroll through the slideshow to see more photos from our campaign. Click on a thumbnail to see a full-size slideshow. In case you missed it, you can see our original post here.
Thanks for joining in on the fun! Have a Happy Thanksgiving!
See more on Twitter, Facebook and Instagram.